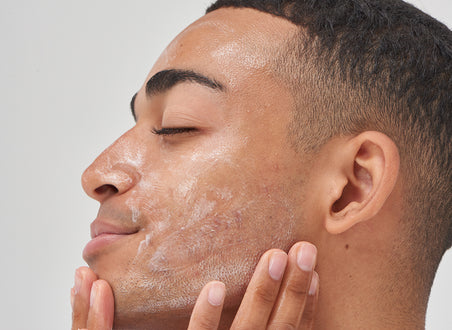 Facial hairs and their follicles are a fundamental part of our skin's structure. Connected to the sebaceous glands which produce oil, facial hair can create its own array of skin concerns requiring some adjustments and additions to our overall facial routine. 
The hair itself can create a barrier for products to reach the surface of the actual skin to be further absorbed into the deeper layers and have their intended effect. This can make it difficult to cleanse and moisturise which means skincare concerns such as acne or dryness can develop or be heightened. Infection and irritation can also be caused by ingrown hairs as well as redness and inflammation from shaving or maintenance.
Typically, it's advisable to maintain your normal skincare regime through to the skin beneath the facial hair but there's some extra attention you can give these areas to keep skin beautiful beneath the beard. 
KEEP CLEAN
As with all hair, it's important to wash facial hair regularly to avoid build up of product, oil, dead skin cells and bacteria lingering in the strands which can ultimately lead to breakouts on the skin beneath. It's recommended to use a tailored beard wash to avoid stripping natural oils from the face. 
Most importantly, from a skincare perspective, is ensuring the skin beneath is being kept in good health to prevent any concerns or conditions forming underneath. Water-based and foaming cleansers are ideal such as our classic Salicylic Acid Cleanser or new Hyaluronic Acid Cleanser for added hydration.  Exfoliating acids such as Beta Hydroxy Acid Serum can keep pores clean and clear to help ease ingrown hairs.
HYDRATE & MOISTURISE
Dryness and dehydration can be an issue as products may struggle to reach the skin's surface through the strands. Spend extra time on product application for hair-heavy areas to ensure it reaches past the root. Build in Hyaluronic Acid Serum as a staple hydrator to penetrate beneath the skin's surface. Our Omega Water Cream is a lightweight, water-based gel moisturiser that immediately hydrates skin without oiliness.
CLOSE SHAVE
Shaving can be an irritating action for our skin and can cause redness and inflammation. 
A 2 in 1 treatment or mask, our Madecassoside Mask helps to reduce inflammation, reduce redness and itching and provides instant cooling & hydration to stressed or overworked skin. Our Glucoside Serum is a gentle, soothing treatment which helps reduce redness, inflammation and rosacea, whilst keeping skin calm, soft and moisturised.
KEEP YOUR TOOLS CLEAN
Whether you're shaving regularly or growing your facial hair, any tools you use should be cleaned/replaced regularly. The blades of razors, for example, can often end up with a clog of dead skin cells or hair remnants which can harbor bacteria which will end up close and personal with your pores on the next use and cause breakouts or infections. 
If you want advice on a suitable skincare routine to support your facial hair and skin type, contact the team at askINKEY.