Your guide to anti-pollution skincare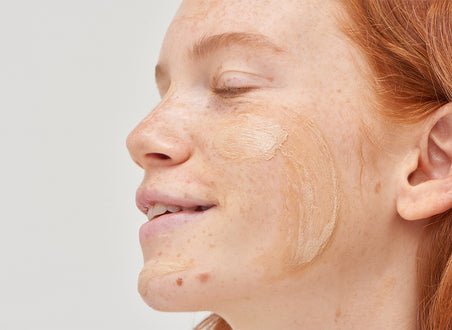 What is pollution?
When we think of pollution, many of us will likely think of a scary, big-city problem that only really impacts high-flying office workers and those living in built-up areas. But these days, pollution particles are everywhere, including in more rural areas, surrounded by countryside
Pollution manifests in particles that are tiny enough to invade pores. There are different types in the air, such as pM (particulate matter, i.e. miniscule pieces of metal), and man-made ozone. Then there's free radicals, created by contaminants in air pollution caused by industry. These are what can cause the most problems for skin…
How does pollution affect your skin?
As mentioned, pollution results in the creation of free radicals, which invade skin and create all sorts of issues. Free radicals damage your lipids, leading to a compromised skin barrier that's less able to fight off dryness, redness, dehydration and the like. They can also target your elastin and collagen levels, thus leading to premature aging. 
In short, pollution can greatly impact both the health and appearance of skin, and certainly not for the better!
How to keep skin safe from pollution
As with many modern day skin threats, a comprehensive skincare routine can help to minimize ongoing damage created by pollution. 
Your pollution-fighting kit:
A hardworking cleanser: The first step in any effective regime, cleansing can effectively target pollution particles left on the skin's surface, and is the first weapon of defense. Our new Hyaluronic Acid Cleanser is a brilliant all-rounder to deeply clean, while also flooding the skin with hydration. It's suitable for all skin types, and can be used both in the morning and at night. 
For best results, double cleanse and remove makeup as soon as possible after being out and about. 
Hyaluronic Acid: As mentioned, Hyaluronic Acid Serum floods the skin with hydration. Including our serum in each routine can help to keep skin feeling quenched and strong, and build up the skin's barrier function, which protects from damaging particles attempting to penetrate through. 
Vitamin C: A gold standard in anti-pollution skincare, vitamin C serums, oils, and moisturisers contain antioxidants that neutralise free radicals created by air pollution. Try Vitamin C Serum, which harnesses the power of 30% pure L-ascorbic Acid. Used in the morning, this can act as a brilliant defense against air pollution, and its creamy texture lends itself to smooth makeup application, too. 
Learn more about how Vitamin C can help protect skin here. 
An effective moisturiser: As mentioned, one way pollution can damage the skin is to compromise the lipids and skin barrier, which is responsible for maintaining skin's moisture levels. Target this by always making sure skin is ultra-moisturised and hydrated. The new Omega Water Cream is a lightweight yet deeply hydrating lotion, which features Omega Fatty Acid Complex, Glycerin, Betain and Niacinamide to keep that barrier ultra-strong and healthy. 
Sun protection: We're all dealing with the effects of pollution, so wearing an SPF to protect the skin from additional damage from harmful UV rays is advisable. Apply Dewy SPF 30 Daily Sunscreen each morning for optimum protection. 
An exfoliant: While a daily cleanse can help with ongoing protection, regular exfoliation can give skin a deep clean to prevent pollution build up. Use either the PHA Toner, Glycolic Acid Toner or Apple Cider Vinegar Acid Peel a few times a week for best results.
If you'd like more support with your skincare routine, contact the askINKEY team 24/7.