What products should I not layer together?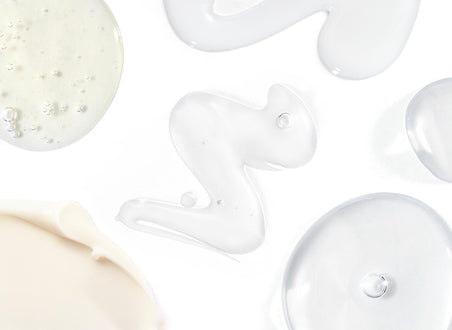 Building the perfect skincare routine can be a process. When you're battling breakouts or targeting concerns such as fine lines or hyperpigmentation, it can be tempting to pile on the products. Whilst layering is essential, it's important to keep an eye on products which clash and could cause irritation and worsen concerns for the skin. Here's how to incorporate your key ingredients whilst being conscious of your skin.
WHAT HAPPENS WHEN YOU LAYER SKINCARE PRODUCTS?
The main risk of layering certain active ingredients together is irritation to the skin which could also cause damage to the skin barrier meaning longer term sensitivity and risk of wider concerns. Also, using certain ingredients may also lessen the efficacy and mean you won't see the results you're hoping for. 
PRODUCT COMBINATIONS THAT DON'T WORK TOGETHER
RETINOL SERUM + VITAMIN C
15% Vitamin C & EGF Serum is acidic and Retinol Serum is more alkaline so it makes sense that these two ingredients aren't compatible when layered, but this does not mean they can't both feature in your routine . Vitamin C is best used in the AM for its antioxidant and protective qualities whilst Retinol Serum is recommended in the PM as it can cause increased UV sensitivity. As they perform at different PH levels, we recommend not using them together by alternating the time of day or days that you use in your routine. 
RETINOL SERUM + AHAS/BHAS
When combining Retinol Serum and AHAs/BHAs together it can put a lot of pressure on the layers of the skin causing irritation and dryness. 
Whilst some of our formulas such as the PHA Toner and Salicylic Acid Cleanser can generally be layered, any stronger actives in these families (Beta Hydroxy Acid Serum, Glycolic Acid Toner are best used on alternate days. This way you can blemish-bust and regenerate the skin too! 
AHAS/BHAS + AHAS/BHAS 
As well as risk of over exfoliation, it can also just be counterproductive to layer on too many serums and actives with similar properties. If you're not seeing required results or your skin reacts, strip back the actives and focus on the one most appropriate for your main concerns. You can always explore the others at a later date.
AHAS/BHAS + VITAMIN C
Vitamin C Serum brightens the skin yet despite its powerful properties, it's quite unstable in structure. When combined with the intense exfoliants such as AHAs and BHAs, this can disrupt the molecular structure, reducing its powerful qualities. 
NIACINAMIDE SERUM + VITAMIN C
These ingredients are both antioxidants so, whilst both powerhouses on their own, but, dependent on the percentage and type of Vitamin C, they could potentially cancel each other out. In The INKEY List range, the formula of our 15% Vitamin C + EGF Serum makes it compatible with our Niacinamide Serum. However, we'd recommend not layering our Vitamin C Serum with Niacinamide Serum and instead use the Vitamin C in the AM of your routine and either alternate the day or use Niacinamide Serum in the PM.


TRANEXAMIC ACID
Tranexamic Acid Serum can be used with all products in our range however we'd recommend not to use alongside a moisturiser / oil as it is unlikely to layer well. Therefore it might help to avoid using alongside ingredients and products which are best to follow up with moisturiser, such as exfoliating acids, Retinol etc. 
SALICYLIC ACID SCALP TREATMENT + GLYCOLIC ACID SCALP TREATMENT
Layering rules don't just apply to the face or body - it's also a consideration for hair care particularly with products that focus on the scalp. As our Salicylic Acid Exfoliating Scalp Treatment and Glycolic Acid Exfoliating Scalp Scrub both work, using both may cause over-exfoliation and irritation so we'd opt for one best suited to your hair type. 
PRESCRIBED/OTHER ACTIVES TREATMENTS
We always recommend consulting a doctor or dermatologist when mixing actives with any prescribed or other stronger skincare treatments. For example, Benzoyl Peroxide, which is a great ingredient to target acne, can actually cancel itself out when used with Retinol and render the Vitamin A derivative inefficient too. 
PRODUCT COMBINATIONS THAT DO WORK TOGETHER
NIACINAMIDE SERUM + RETINOL 
If you have more sensitive skin, use Niacinamide Serum before Vitamin A derivative and skin regeneration hero - Retinol Serum to help decrease irritation. It is advised to apply the Niacinamide Serum first to protect the skin from the effects of the retinol. 
HYALURONIC ACID SERUM + RETINOL/AHAs/BHAs
As these potent actives can be quite drying on the skin, it's great to combine with our hero hydrator Hyaluronic Acid Serum. Not only this, the Hyaluronic Acid Serum can be beneficial to the absorption of active ingredients beneath the skin to enhance their impact.  
VITAMIN C + SPF
SPF is an essential to every AM routine but when combined with Vitamin C it can actually enhance the protective qualities against UV Rays and sun damage.
REACTIONS AND EFFECTS OF MIXING PRODUCT TOGETHER
Over exfoliation and irritation - if multiple products e.g Retinol and AHAs, are working on exfoliating the outer layers of skin, this can overwhelm these layers and cause irritated, damaged skin. Most critically, this can compromise the skin barrier and make it more susceptible to damage from UV, free radicals and other stressors. Plus, when it's red, itchy or painful, it can be harder to maintain the use of other products in your routine therefore having a wider impact.

If you experience a reaction, such as redness, burning, flakiness, dryness or stinging, we recommend stripping back your routine from active ingredients immediately and reintroducing gradually. You can also experiment with different layering and day/time of day alterations to find the best way to incorporate different products.   
ALTERNATION STATION
The best approach to a more complex routine is to create a system of alternating so that you can use your desired products without potential clashing. The best way to organise is by time of day (AM or PM) and frequency such as using on alternate or specific days of the week. Why not create a skincare routine calendar. Vitamin C is an active best kept to the AM of your routine whilst Retinol and stronger exfoliating acids are ideal in the PM
PATCH TESTING
When adding a new product to your routine, it's always important to do a patch test to check your skin's reaction and whether any irritation occurs. To patch test, apply a small amount of product to your inner arm or behind your ear and wait 24/48 hours to check your skin's tolerance. This is particularly important for those with sensitive skin. When layering, you can also patch test with multiple products to see how they react with your skin when used together. Learn more about patch testing.
CONSULT A DOCTOR OR DERMATOLOGIST
If in doubt, consult a doctor or dermatologist about making any additions to your routine as well as any other treatments that can help support your skincare journey - particularly if using products outside our range. 
EVERY SKIN IS DIFFERENT
Listen to your skin - some people's skin have more tolerance than others based on skin type, genetics and how much care it's received and therefore could potentially handle layering of certain active ingredients. It's important to listen to your skin's reactions (or non reactions) and base the frequency and layering of products on that - using this information as a guide.  
Want further advice or clarity on your routine? The askINKEY team are always happy to help!