Why do I need to do a patch test?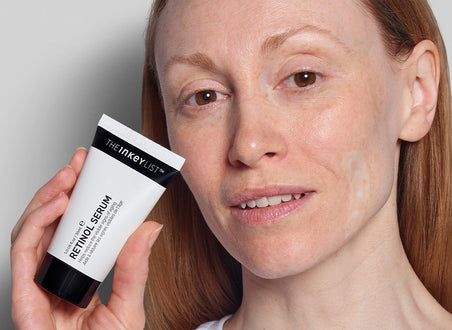 After unpacking your new The INKEY List delivery it can be tempting to reorganise your routine and incorporate your new additions straight away - BUT we have some important advice which your skin will thank us for.
WHY SHOULD I DO A PATCH TEST?
Patch testing, particularly if using stronger actives such as AHAs, BHAs and Retinol can save your skin from allergic reactions, irritation and reactive breakouts which could cause longer term damage to your skin barrier.
When introducing a new product into your routine
If you're using a new product for the first time (even if you've used the ingredient before) strengths and formulations can differ across brands and products. Therefore, patch testing can eliminate any risks of transitioning to a new brand.
When layering with other active ingredients
Be aware of layering multiple serums or active ingredients as there may be incompatible ingredients which could cause reactions. Learn more about what ingredients we don't recommend you layer together here
When increasing the strength or frequency of active ingredients
Products such as Retinol Serum, Glycolic Acid, Beta Hydroxy Acid Serum and Vitamin C and other BHA/AHAs can be too strong for sensitive skin, especially when used too often. The skin may also need time to get used to new products and increased strengths. Consistency of use is more key than frequency.
HOW TO PATCH TEST
Test a small amount of product on the inside of the forearm or behind the ear. Wait at least 24 hours to see if any irritation occurs but please note, it can take up to 72 hours for a reaction to present itself.
The inside of the arm or behind the ear is softer and more representative of the skin on your face but you can also apply on your cheek or chin if you want to test specifically to see if a product will break you out. Do this as often as you would intend to use the product for a week to see if your skin breaks out. 
We recommend patch testing products one at a time so, if there is a reaction, it's clear which product or ingredient is the cause and can be removed. This also works with noticing the benefits! By implementing everything all in one go, there is a higher risk of irritation and cause of damage to the skin barrier.  
HELP! I'VE HAD A REACTION
If you've experienced a reaction or any irritation such as redness, itchiness or burning during the patch testing time frame, rinse off and discontinue use. If the reaction is severe, contact your doctor or dermatologist for advice. 
At any point, should you require any guidance on where to start with your products, or if any irritation or reaction occur, please feel free to get in touch with our askINKEY team available 24/7 365 days