Pre Makeup Skin Prep Masterclass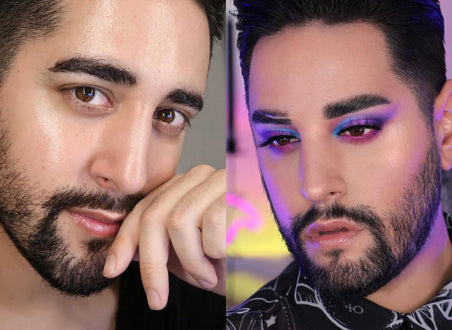 Robert & James Welsh share their 5-step routine to creating the perfect makeup base. They reveal their favourite INKEY products and give some insider tips for prepping your skin…who knew Hyaluronic Acid was such a great lip primer! Below is a step by step of their recommended routine… 
Remember that these products aren't for everyone so if you're unsure, head over to our Recipe Builder to create your personalized recipe or chat with our askINKEY team who are are always happy to help you with your questions. 
Steps in your pre makeup skincare routine:
Step 1: Oat Cleansing Balm or Fulvic Acid Cleanser  
Tip: leave your cleanser on for a few seconds before washing off to allow it to really clean the skin  
Step 2: Hyaluronic Acid Serum 
Tip: Mist your face with water or a toner before applying Hyaluronic Acid, this will lock in hydration for longer 
Step 3: Niacinamide Serum / Beta Hydroxy Acid Serum / 15% Vitamin C + EGF Serum / Caffeine Eye Cream 
Tip: Niacinamide Serum – apply to the T zone to help with oil control underneath makeup  
Tip: Beta Hydroxy Acid Serum OR 15% Vitamin C + EGF Serum*  – apply to the full skin surface area for a smoother and less textured base. 
*don't use these ingredients in the same routine  
Tip: Eye Cream – Use eye cream on any dry patches of the skin to stop the skin from drying out while wearing makeup  
Step 4: Symbright Moisturiser 
Tip: If you have an oilier skin type, use your moisturiser as a primer  
Step 5: SPF
Tip: SPF is for everyday use, even when wearing makeup. To top up throughout the day put your SPF on a beauty blender and dab over your skin  
Shop all INKEY List skincare products
Robert & James Top Tips:
Tip 1: Apply your skincare and wait 5 minutes before going applying makeup, take note of how your skin reacts, see where you are oily and dry then adjust your skincare prep to achieve your perfect base.  
Tip 2: For particularly textured areas like around your nose use Caffeine Eye Cream for a boost of hydration and silky-smooth texture 
Tip 3: If your skin is oily and makeup just isn't holding, cleanse and apply HA, you don't always need to moisturiser pre makeup.  
Don't worry if you missed it, the masterclass is still available to watch here.