Real Results with INKEY: Scarring & Hyperpigmentation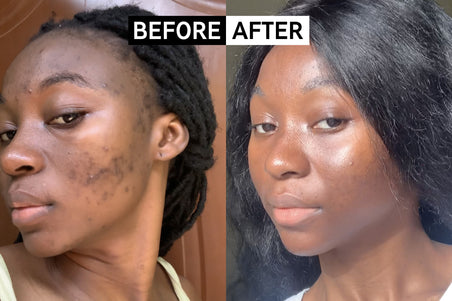 Meet, Real Results with INKEY. This is our dedicated series where we pass off the mic to our very own customers, who will share their reviews and recommendations on some of our products. This month, we're focusing on hyperpigmentation and scarring left behind by acne or blemishes.
The key is to stick to a skincare routine and give it time to show results. Our community is proof that good things come with time! Below, we've featured some of our community members who have shared with us their progress photos of their current skincare journeys with hyperpigmentation and/or scarring. We love to see the evolution of their before and after photos! 
Read on below and to learn more about what their skincare goals are and which products they are using to help reach their goals.


Hycent
Hycent used Succinic Acid Treatment in her routine for 3 months, alongside Salicylic Acid Cleanser and Tranexamic Acid Treatment.
"These literally saved my skin as I had been suffering from acne for about 3 years; after incorporating the products into my routine, my skin changed drastically and for the better!"
Terra
Terra had struggled with hyperpigmentation for 30 years. She says her skin has never looked and felt so good after using Retinol Serum with Salicylic Acid Cleanser for 9 months.
Hanna
"Your products have transformed my skin and I'm really happy".
Hanna uses Salicylic Acid Cleanser, Niacinamide Serum, Succinic Acid Treatment and Omega Water Cream.