5 Products To Add To Your Winter Skincare Routine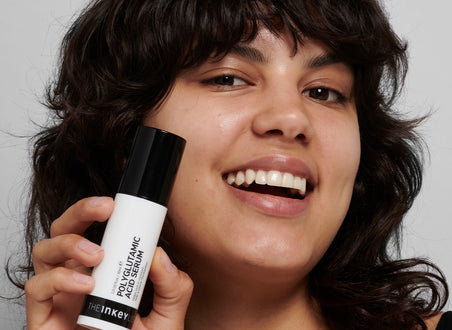 Although our products are designed to work all year long, the change in weather means readjusting our current skincare routine to best combat the colder temps and help avoid and target dry skin. Here's what we recommend introducing to your routine with new products and best practices for layering different products.


1. A hydrating serum
Polyglutamic Acid Serum is a serum formulated to lock in moisture for smooth skin instantly. It's actually more hydrating than Hyaluronic Acid Serum during the winter because Hyaluronic Acid draws moisture in to hydrate the skin, but during the winter, there is less moisture in the air. In addition to being a stronger hydration serum, Polyglutamic Acid Serum works as the perfect makeup base and you can mix it in with your go-to foundation for a dewy, winter glow. 
You can read more about our Polyglutamic Acid Serum in depth on our blog here.


2. A more powerful moisturiser
During the brisk winter months, hydration and moisturising are key. Whilst Omega Water Cream is everyone's go-to for essential hydration, it is a very lightweight formula, which is why we recommend our Peptide Moisturiser since it has a much thicker consistency and is packed with peptides to support the proteins in the skin.
3. A hydrating eye cream
Different parts of our skin are more sensitive than others and the under eye area is a major example. Under-eye hydration is important since the skin around the eye is thinner and more likely to get dry or irritated in the cold. To combat this, we recommend using an eye cream like our Caffeine Eye Cream for added hydration. Also perfect for waking up on cold, dark mornings – it's like a hit of espresso for the eyes since it contains caffeine, which is a natural antioxidant derived from coffee.


4. A spot treatment
During the winter and holiday season, we're more prone to breakouts due to dryer air and central heating, long hot showers, chocolate and festive dinners, drinking less water, and more. All to say, the key is to tackle breakouts at the source with a good spot treatment for developing/active blemishes. We recommend our Succinic Acid Treatment to clear blemishes fast, reduce inflammation and prevent clogged pores with our non-drying, targeted treatment. With a cream formula, it is easily layered under makeup without flaking–so you can still stay festive while combating breakouts simultaneously.


5. A gentle exfoliating toner
Never underestimate toner, especially during the winter season! Since your skin is more prone to be sensitive/dry during this time than other seasons, your regular exfoliant might be too harsh for this time of year. While it's still important to use exfoliants, especially if you're wearing more makeup during this festive season, or using thicker moisturisers, we recommend switching out your regular exfoliant for a gentler option. We recommend our PHA Toner since it's more gentle than AHA and BHAs.
In addition to implementing and layering these products for a winter-ready routine, don't forget to check out our Recipe Builder to create a skincare routine tailor-made for your skincare needs and goals. You can also reach out to use at any time at askINKEY for help!