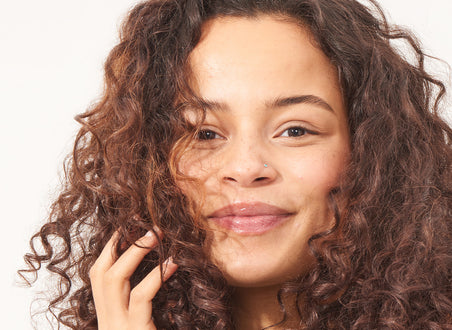 Hair oiling is one of the latest trends to be seen all over our TikTok feeds, but if you didn't know–it actually dates back years ago and it originated as a traditional Ayurvedic practice. Let's dive into this.
FIRST OFF, WHAT IS HAIR OILING?
Hair oiling is a haircare technique used to strengthen and moisturise hair. It's a practice where 100% of natural oils are spread or massaged throughout the hair, from scalp to tip, to increase shine, moisture, growth, and overall health.


WHAT ARE THE BENEFITS?
By sealing the hair strands, hair oiling adds a boost of moisture that helps to lessen frizz and add shine. Also by providing smoother hair, it improves the appearance of split ends as well, and it can even protect hair from drying out in the sun! 


WHAT TYPES OF OILS ARE RECOMMENDED FOR HAIR OILING?
The key is that the oil you use should be 100% natural. One of the most popular options that people are using is Rosemary oil, which helps promote hair growth.


HOW DO YOU OIL YOUR HAIR?
First is prep work. Carefully detangle your hair with a brush and exfoliate the scalp. We recommend using our INKEY List Glycolic Acid Exfoliating Scalp Treatment to remove any dead skin cells and build-up on the scalp before applying oil.
Next, apply your choice of 100% natural oil onto the scalp and/or down the ends. To help evenly distribute the oil throughout, you can section off our hair and secure each section with our INKEY List Hair Clip.
If you're combating a dry scalp and/or dry hair, give it extra love and apply oil generously at the ends, since this is the driest part of the hair.
Massage into the scalp for up to 5 minutes to allow the oil to maximise the benefits. Make sure you massage all over the scalp—our INKEY List Scalp Massager will make this extra easy (and extra relaxing too)!
Then, leave the oil saturated on your hair for at least an hour, you can even sleep with it on by using a shower cap and our INKEY List Hair Clip to keep hair out of the way. 
Finally, once you've let the oil sink into your scalp and hair, wash your hair as usual with your go-to shampoo. Use our Scalp Massager in the shower to remove all residue of oil from the scalp.
Pro tip: for extra shine, finish with our INKEY List Hyaluronic Acid Hydrating Hair Treatment for a truly luxurious look and feel.


Want to learn more about hair oiling? Our askINKEY team is available to answer all your questions and help you reach your skin and haircare goals!