Essential Guide to Suncare & SPF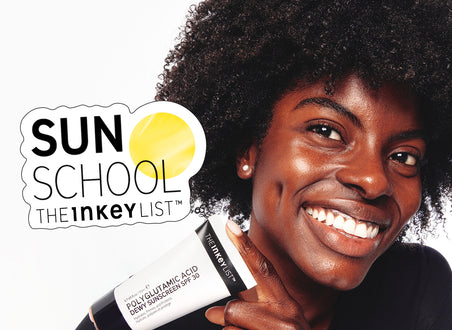 At The INKEY List, it's always been our mission to make skincare simple, and we know that there is some serious confusion around sun protection and the importance of wearing sunscreen, not just in summer but all year long.
So, just in time for Summer, we're here to educate as many people as we can on all things suncare. From UV rays, to the best ways to reapply – Sun School is here to help.
We've answered some of your most asked questions below. Follow along on our socials @theinkeylist for more Sun School content and send askINKEY a DM if you need any advice on sun protection.
DOES EVERYBODY NEED TO WEAR SPF?
YES! SPF is the most important step in any skincare routine. It doesn't matter what skin type, tone or concerns you have, you should be wearing SPF daily (even in winter or on cloudy days) 
Not wearing SPF can cause: skin damage, premature or accelerated aging, dark spots, worsened hyperpigmentation, and most importantly a higher risk of skin cancer.
DO I NEED UVA OR UVB PROTECTION?
Both is best! UVA has a longer wavelength that penetrates deeper into the skin and is associated with aging of the skin and dark spots. UVB has a shorter wavelength that affects the top layers of your skin more, this is associated with skin burning. Both of these rays are very harmful to the skin, a broad-spectrum SPF protects against both types. 
HOW MUCH SPF SHOULD I APPLY?
For the face and neck, 3/4 of a teaspoon or 3 fingers worth is a good rule to follow. For the body, the equivalent of a shot glass should cover your whole body. Remember to ensure you have liberally and evenly covered the skin. 
Don't forget to reapply every 2 hours, and apply to your ears, eyelids, and neck.
WHAT LEVEL OF PROTECTION DO I NEED?
SPF 15 blocks 93% of UVB rays, SPF 30 blocks 97%, and SPF 50 blocks 98%. For everyday use, experts and dermatologists recommend staying between SPF 30 & 50 for effective protection against sun damage.
HOW CAN I GET THE MOST OUT OF MY SPF?
Here are our top tips:
Reapply at least every 2 hours.

Apply liberally and allow it to sink in before going outside or applying makeup.

Pair it with a Vitamin C serum, this will help protect your skin from the sun AND free radicals.
Find one you actually enjoy applying, that way you'll look forward to wearing it.
HOW DO I FIND THE PERFECT SPF FOR ME?
When shopping for an SPF, come back to this checklist:
Is it a broad spectrum?

Is it SPF 30-50?

Does it have extra benefits (i.e. antioxidants or hydration)?

Does it have the finish that I like (i.e. dewy or matte)?

Will I actually want to wear this every day?