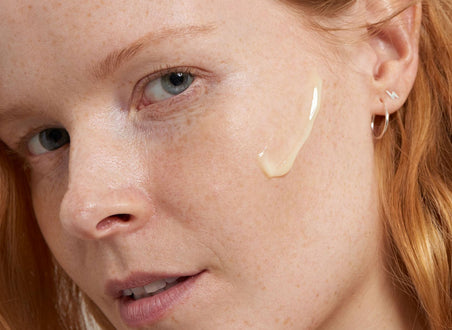 Fine lines and wrinkles are an inevitable part of our ageing journey and, although they tell the tales of smiles shared and memories made, we can welcome some assistance to make their appearance a little more subtle. 
Signs of ageing can develop from your mid twenties which is when our natural collagen production starts to diminish. There are preventative anti-ageing measures we can build into our routine as well as using products to target the appearance of existing lines and wrinkles which often occur around the eyes, forehead, mouth, chin and brows. 
There are two types of wrinkles. Dynamic wrinkles are directly related to the repeated movement of your face - you know those 'smile lines'. Static wrinkles are what happens when reduced elasticity, from elastin and collagen depletion, meets gravity. 


THE SCIENCE: COLLAGEN AND ELASTIN
Collagen and elastin are proteins naturally found in the skin's dermis layer and are responsible for the firmness, suppleness and elasticity of the skin. Elastin provides the flexibility in the connective tissues of the dermis whilst Collagen provides the strength and padding so, combined, they allow the skin to move and contract. Over time, the natural production of these proteins slows down which results in the development of wrinkles, lines and a sag in the skin.


WHAT CAUSES FINE LINES & WRINKLES?
As much as the sands of time play the most significant role in our facial crevices, our genetics, lifestyle and simple wear and tear from daily expression all combine to carve out these facial features. 


AGEING
It's unavoidable, one of the fundamental causes of fine lines and wrinkles is ageing. When we reach our mid twenties our body's natural collagen and elastin production begins to slow down as the skin uses more than it can create. Fear not, there is plenty we can do to support our skin to grow older gracefully. Over time, we also experience decreased production of natural oils which makes wrinkles appear more prominent so putting focus on hydrating and balance of oil glands is also helpful.
Intrinsic ageing is connected to our genetic make-up and is essentially out of our control - a blueprint our skin cells are given which dictates things like cell turnover and hormone levels. These impact the appearance and definition of facial lines as well as the plumpness of your skin and oil production. Extrinsic ageing is rooted in more external and environmental factors such as pollution, sun exposure, smoking, drinking and diet all of which can amplify the amount of and severity of lines and wrinkles when they appear. It is easier to take action against these influences.


UV / SUN EXPOSURE
Exposure to the sun can speed up the ageing process. UV from regular or long periods of sunlight breaks down the skin's connective tissue in the dermis layer of the skin which can cause the skin to sag and wrinkle. SPF is your best friend when it comes to wrinkle prevention at any age. 


EXPRESS YOURSELF
Squinting, smiling, laughing, crying the face communicates our instinctual emotions without us realising, all day everyday. The face has 42 muscles doing the work and, each time we flex them, it creates an imprint beneath the surface. As we age, the rebound and recovery from the imprint decreases causing the imprint to remain and gradually deepen. 


THE INKEY LIST ANTI-WRINKLE ARMY
Once we accept ageing is generally unavoidable, we can start to explore how to work WITH our wrinkles and support against anti-ageing. 


The Vitamin A derivative helps to promote skin renewal and enhance collagen production working beneath the surface of the skin. It's more of a long game and can take several weeks to see results but it's a hero of efficient wrinkle reduction and anti-ageing. By stimulating renewal processes in the skin, newer skin cells reach the surface faster helping reverse and prevent the signs of ageing while brightening and smoothing skin. 
HOW TO USE: Use in the PM only. Start by using Retinol Serum two nights a week. As your skin adjusts to the use of the Retinol, you will be able to slowly increase the frequency of application to nightly, or as many nights as are tolerated.
NOTE: Retinol can cause irritation when used with Vitamin C, exfoliating acids and Niacinamide Serum so be conscious of your routine when adding in. 
Learn more about Retinol & Retinoids.


A rich yet lightweight eye cream using Retinol, a derivative of Vitamin A. This ingredient helps to promote skin renewal and enhance collagen production. Formulated with 3% VitaleaseTM Stabilised Retinol Compound, it is a slow release formula to help avoid irritation. Use as a targeted anti-ageing treatment for fine lines and wrinkles around the mouth area.
HOW TO USE: To be used in the PM starting off 1-2 times per week and increasing depending on your skin's tolerance. This cream is also gentle enough so it can be used to target lines around the mouth, avoiding the lips.
Find out more about what eye cream is best for you in our Eye Cream 101 blog.


Bakuchiol is the natural sister product to Retinol which has all the anti-ageing properties of improving firmness and elasticity, without causing sensitivity. Formulated with Omega-3 rich Inchi Oil and squalane, this lightweight anti-ageing moisturiser will keep the skin supple and hydrated.
HOW TO USE: Use AM and PM. On cleansed skin apply a pea-sized amount to face and neck. Apply after preferred serums. 


Our Collagen Booster is a face serum that tightens the skin targeting fine lines and wrinkles. Collagen is a natural skin protein that helps support skin firmness, suppleness and elasticity. As we get older production slows in our bodies, our skin loses its plumpness and lines and wrinkles appear. Our serum mimics the anti-ageing effect of what natural collagen would do, leaving skin looking plumper and smoother while helping boost your own collagen production for firmer more supple skin.
HOW TO USE: Use AM and PM. On cleansed skin apply a pea-sized amount to face and neck. 


Q10 is a power antioxidant, naturally found in the body, that can help protect skin from damage caused by environmental stress such as a pollution. It works in the upper layers of the skin, protecting it from damage that can accelerate the signs of ageing while also working to repair. We generally recommend this as a suitable alternative to Vitamin C for more sensitive skin!
HOW TO USE: Use AM and PM. On cleansed skin apply a pea-sized amount to face and neck. 


INTRODUCING PEPTIDES
The hero of many anti-ageing product are Peptides. These are small but mighty amino acid chains that support the firming, hydrating proteins for your skin. With continued use, these peptides help support natural collagen, leaving skin looking fresh, youthful and comfortable.


A nurturing yet fast-absorbing daily moisturiser with a peptide duo that helps support natural collagen and hydrate skin. 
HOW TO USE: Use AM and PM. On cleansed skin apply a thin layer to face and neck after preferred serums. Also suitable for décolletage and hands.
In addition to these hero products, other preventative measures you can take are:

HOW TO PREVENT AGEING
1. PROTECT SKIN FROM SUN
Think of your skin like a grape - overexposure to sunlight, combined with lack of hydration, makes it raisin-like.
It's important to limit time in direct sunlight. Apply
SPF
everyday, topping up throughout the day.
Our Dewy Sunscreen SPF 30
fits into everyone's everyday routine as Step 5 in their routine to ensure everyday protection. If reapplying over makeup, we would recommend reapplying with a beauty blender and to lightly dab all over the face until it's been absorbed, and each area is covered. Reapply frequently, especially after perspiring, swimming or towelling. We would recommend SPF 50 if spending an extended length of time in the sun. We would also recommend wearing protective clothing such as hats and sunglasses

2. HYDRATE & MOISTURISE
When starved of hydration, the skin begins to shrivel. We can keep the skin looking plump with hydrating ANTI-AGEING serums and moisturisers designed to lock the moisture beneath the surface and plump the cells. 

3. MONITOR YOUR MOVEMENTS
Find yourself squinting or frowning a lot? Be mindful of relaxing your facial muscles whenever you notice. Of course, continue to smile as much as possible though. 


4. HEALTHY HABITS
Keeping healthy on the inside transcends to your outside so be conscious with diet, exercise and consumption habits to give your skin an extra helping hand. 


5. REFINE YOUR ROUTINE
You can technically never be too young to take on an anti-ageing routine even in the sense of building in an SPF to your daily routine. We advise aiming for prevention in your early 20s and more targeted ingredients such as retinoids and peptides from mid-20s onwards. 


Want to find the perfect recipe for your skin? Or have further questions? Get in touch with the askINKEY team.